An award winning baker and cake decorator to royalty, a Micro-baker extraordinaire and a YouTube and Instagram sensation.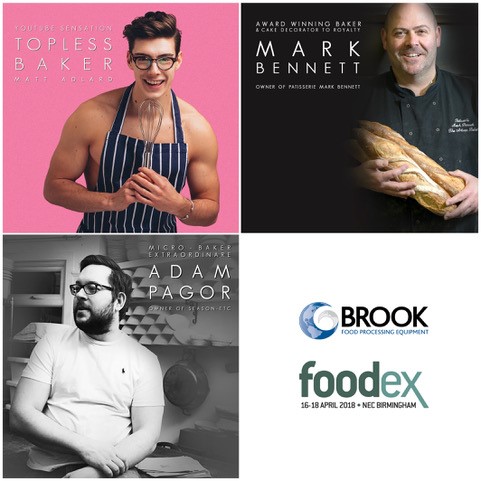 Baking demonstrations at exhibitions are not out of the ordinary for machinery suppliers and manufacturers Brook Food Processing Equipment but Foodex 2018 will be the most exciting yet with not one, not two but three remarkable bakers showcasing their talents live for visitors of the NEC show.
April's exhibition will see Brook Food fill their 160Sqm stand with not just equipment for bakers to view and understand, but also varied and exciting baking across all three days from the following talent;
2014 Baker of the Year and Royal Wedding cake decorator Mark Bennett who runs three of his own Patisserie Mark Bennett retail premises in Poole, Dorset, will be showcasing how to produce and flavour delicious sourdoughs.
Micro-bakery owner and small batch specialist Adam Pagor who runs Season-Etc in London using equipment and processes perfect for micro-bakeries, restaurants etc will be producing his renowned sticky buns and pastries as well as a selection of traditional breads using traditional methods.
YouTube and Instagram phenomenon Matt Adlard AKA Topless Baker will be sharing some of his favourite recipes and most beautiful bakes including his infamous cut-out pie creations, hand painted macarons and other delightful designs.
With over half a million Social media followers between them, there is no question that these are the ones to watch, and Brook Food will have the trio all baking live all day, every day at Foodex.
Foodex runs from 16th – 18th April at the NEC, Birmingham and runs alongside other associated exhibitions. Brook Food are on stand W250
For further information contact Ann Wells:
Email: annwells@brookfood.co.uk
Phone: 01984 640401
Website: www.brookfood.co.uk
Twitter: @Brook_Food
Instagram Brook_Food