Roger Haycock of Rogers Bakery, Huddersfield was Winner of the hotly-contested Flatbread category of the Tiptree World Bread Awards with Brook Food in 2018. Roger also scooped Third in the Muntons Malt Bread category.
He is seen below receiving his Flatbread trophy from Devon Petrie, Senior Lecturer, National Bakery School and Stephen Hallam, Chair of Judges . Image Credit: Henry Kenyon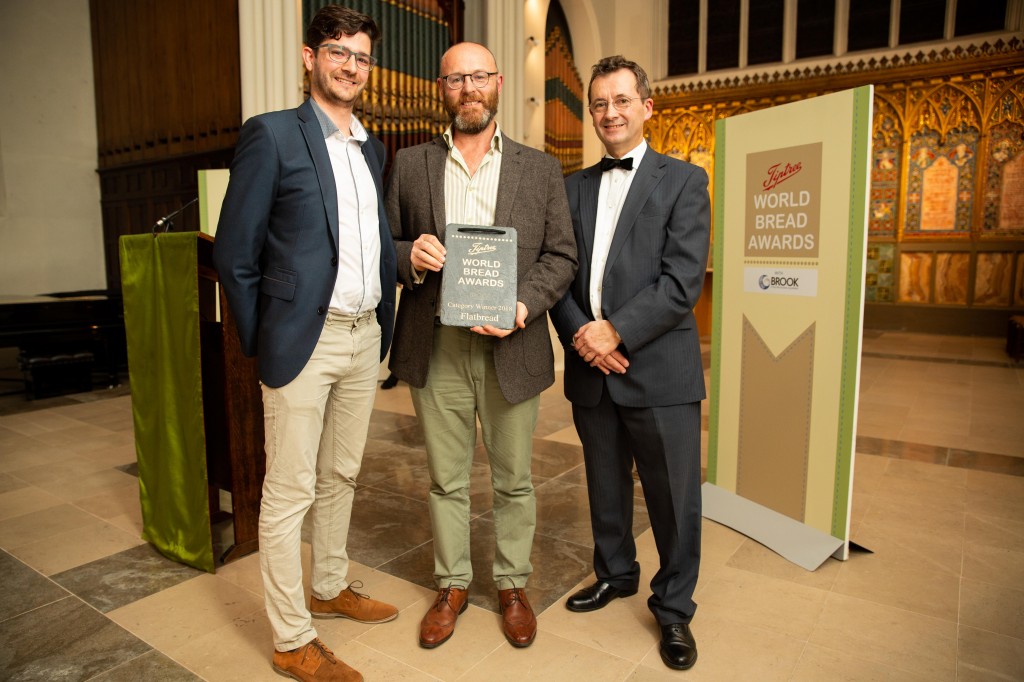 How did it feel to win your category?
Fantastic! My customers always tell me that my bread is amazing, but when you enter into a major competition, you start doubting yourself.  The relief and euphoria when I heard my name was fantastic.
What were the highlights from the awards evening for you?
The Venue, the organisation and meeting other bakers, whether baking from home to having large bakeries, err and the food and drinks of course!
Tell us more about your winning loaf.
My focaccia is a slow proved 100% overnight yeasted dough, I retard 100% of my doughs, I don't use the sponge and dough method at all.
It's a high hydration dough, so it gives you a wonderfully light bread with a large open crumb and flavoursome crust.
Describe a normal working day at your bakery and what makes your bakery unique?
I start work with my one other baker, Michael, at 4.30 am apart from Saturdays which is a 2.30 am start.  I do tend to start later than most bakers due to retarding all the breads. After having a brew to get going and switching the ovens on Michael starts mixing the following days dough, I then bake the bread direct from the retarders.  Usually after 3 hours everything is mixed and baked.  Before we can start scaling tomorrows dough, we tend to get on with making some same days breads for local customers.  Typically, pitta breads, bao buns and bagels. After that is done, we scale and shape the next day's bread. Put them in baskets/ tins and into the retarders slowly rising ready for the following morning.
We'd love to hear more about your baking background.
I have gone in many different directions throughout my life, initially starting off selling kit form conservatories throughout the UK, Europe and America, that led to working in a joiner's shop programming a cnc machine, and then onto setting up the conservatory arm of a national home improvement company.  Eventually, I had had enough of the road and my wife Lindsay and I purchased the local greengrocer's shop and changed into a greengrocers / deli.   We started to buy artisan bread in from a local supplier, which meant we I had to collect it from them. I used to watch them making the bread and thought "I could do that!". You Tube and a book by Emmanuel Hadjiandreou, started me off on my journey, that was 2013.   In August 2015 I setup Rogers Bakery to supply bread wholesale, I now have over 30 customers, from cafes, restaurants, mini supermarkets and a shopping centre.
What tips would you give to young apprentice bakers hoping to bake and even own their own bakery one day?
Believe in yourself and listen to what your customers want.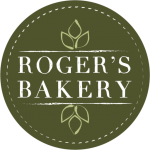 To find out more about the bakery:
Address: unit 4 Warehouse Hill, Marsden Huddersfield, West Yorkshire HD7 6AB
Website:   www.rogersbakery.com
Instagram:  @rogersbread
Twitter:   @rogersbread
Facebook: @rogersbakerymarsden