We hate to hear about wasted bread here at Tiptree World Bread Awards with Brook Food so we asked judge Rachel Green to share some inspiration of how she would use up any bread and she kindly shared this delicious recipe with us for Lemon French toast with Roasted Plums. Perfect for alfresco breakfasts this weekend we thought!
Lemon French toast with Roasted Plums
Serves 4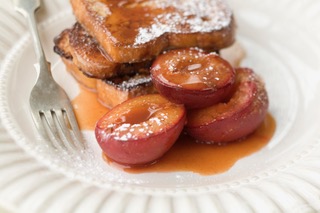 2 eggs, beaten
100ml milk
Zest 1 lemon and juice of 1 lemon
1 tbsp caster sugar
4 slices bread or brioche, cut in half diagonally
450g plums, halved and stoned
120g light brown sugar
50g butter, melted
½tsp mixed spice
1 tbsp lemon juice
Butter for frying the toast
Crème fraiche or vanilla ice cream, to serve
Preheat oven to 190°c/375°f/Gas 5
Method:
Place the plums cut side up on a baking sheet, sprinkle with the light brown sugar and drizzle with the melted butter then sprinkle over the mixed spice and lemon juice and roast in the oven for 10-15 minutes or until the plums are slightly brown and just soft.
Beat the eggs, milk, lemon zest and 1tbsp sugar in a shallow dish.  Add the bread, then turn in the liquid until well soaked.
Heat a little butter in a large non-stick frying pan, then add the slices of bread and fry on each side until golden brown. Put two slices on each plate, sprinkle with the remaining sugar, then spoon over the warm plums and their juices.
Serve with crème fraiche, cream or vanilla ice cream.
For more inspiration why not head over to the Love Food Hate Waste website https://www.lovefoodhatewaste.com