Stars of the bread-baking world gathered together at St John's Church, Hyde Park on Tuesday 16 October 2018 for the much-anticipated announcement of the winners of Tiptree World Bread Awards with Brook Food.

The awards ceremony was hosted by Stephen Hallam, Master Baker, Managing Director of Dickinson & Morris and Chair of the Judges who was delighted to declare Istvan Nadhazi of M's Bakery, Bournemouth as Winner of the Real Bread Campaign supported by Shipton Mill category– and Overall Winner of the Awards for his 'French Country Sourdough'.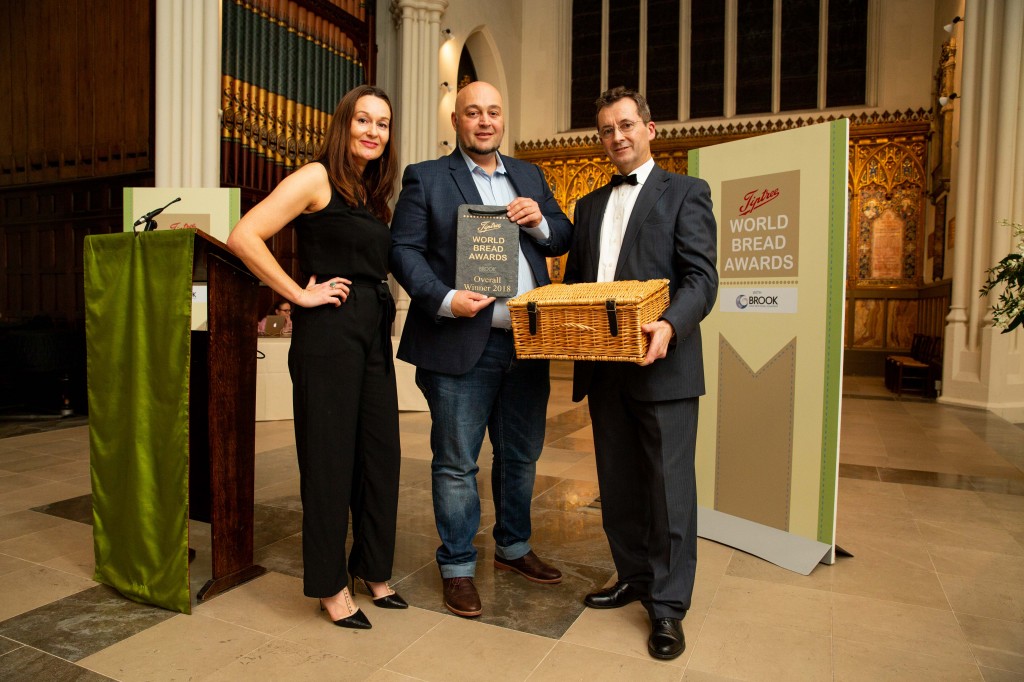 Liz Baker, Marketing Manager, Tiptree (left) presented Istvan with £1000, a Tiptree hamper and trophy. Stephen Hallam (right). Image Credit: Henry Kenyon
Istvan beat off competition from hundreds of loaves sent in from around the United Kingdom – delivered by courier, taxi and in person on the morning of the judging at Cathedral Hall, Westminster Cathedral, to ensure maximum freshness.
Today, we have invited him to the blog to talk about his winning loaf and his bakery.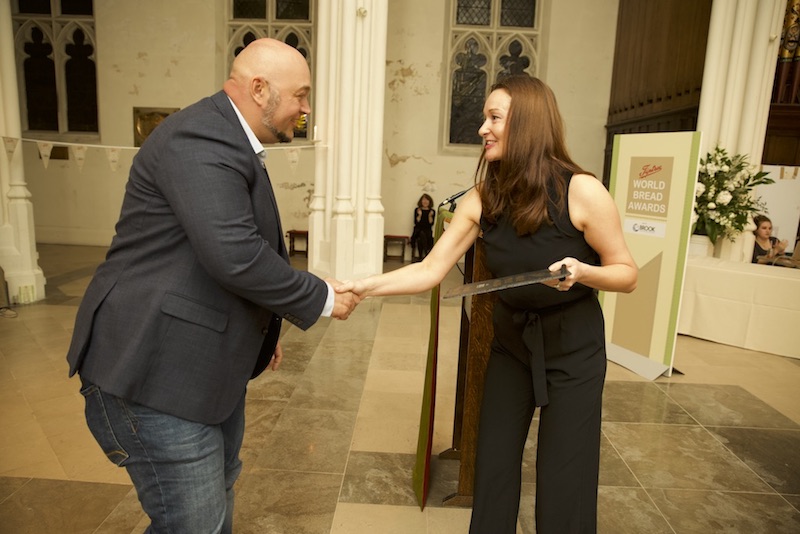 Welcome Istvan, tell us more about your winning loaf 'French Country Sourdough'
Our organic sourdough is stoneground with 90 per cent white flour, 5 per cent wholemeal and 5 per cent whole rye. The bread boasts a thin, crispy crust, a desirably chewy texture and an ever-so slightly sour taste. It's perfect served simply, with butter, and that's why we like it. It's great with French onion soup too.
We would love to hear more about your bakery.
My wife Marta and I do all the baking ourselves, and we currently employ just one other person to serve in the shop, but next year we hope to open another site and employ more bakers. We bake everything from scratch: Viennoiserie, French patisserie and cakes for special occasions as well as bread, and both sweet and savoury pastries. I love croissants myself – I need to eat less croissants!
Tell us about your background?
I didn't study to become a baker but when I finished my schooling I didn't find a job in my profession. There was a little bakery in my hometown and they were hiring at the time and I went to work for them as a trainee baker. This was in the early 90′s and I discovered my love of baking.
I moved to London in 2011 and was inspired in part via the Youtube videos of Vincent Talleu, a French baker working in the UK with a large following online. I worked for GAIL's Bakery, and then I wanted to move out to the countryside with my family, so I joined Mark Bennett's patisseries near Poole. A fellow Category Winner in the Tiptree World Bread Awards with Brook Food 2018. He's a legendary baker in the area, and he became a great friend. I learned a lot from him, but my dream was to open my own independent bakery.
In October 2016 my wife Marta and I opened our own bakery in Bournemouth and with this, Marta's dream came true. That's why we called our little bakery M's. Marta studied at Miklos Toldi Food School in Nagykőrös
How did it feel to win not only the Real Bread Campaign supported by Shipton Mill category but also Overall Winner of the Award?
This award is basically a recognition of what we do and believe in. It means that hard work pays off.
We hope that we can set a good example to other small businesses.
Other bakers should also enter. It improves creativity, promotes quality production and gives you new ideas. And keeps the baker nation awake.
To find out more about M's Bakery visit:
Tripadvisor: M's Bakery Ltd 
Twitter: @msartisanbakery
Instagram: @msbakeryuk