In the words of Caroline Kenyon, Director, "The Winners' Harvest Supper gathering at St John's Hyde Park in October has fast become an important fixture in the bakers' year".

We are therefore delighted to announce that for 2018 Toast Ale will be the Toast of the night!
Toast Ale brews award-winning beer with fresh surplus bread from bakeries and sandwich makers, and pours all profits into the environmental charity Feedback to end food waste.
The seed of the idea for Toast came from author and campaigner Tristram Stuart. He had visited a sandwich factory discarding 13,000 slices of bread every day – the unused heel end of the loaf. And that's just the tip of the iceberg: 44% of bread is wasted in the UK. When Tristram met the brewers at Brussels Beer Project who'd reinvented an ancient recipe to create a delicious bread beer, he was inspired to create a pint-sized solution.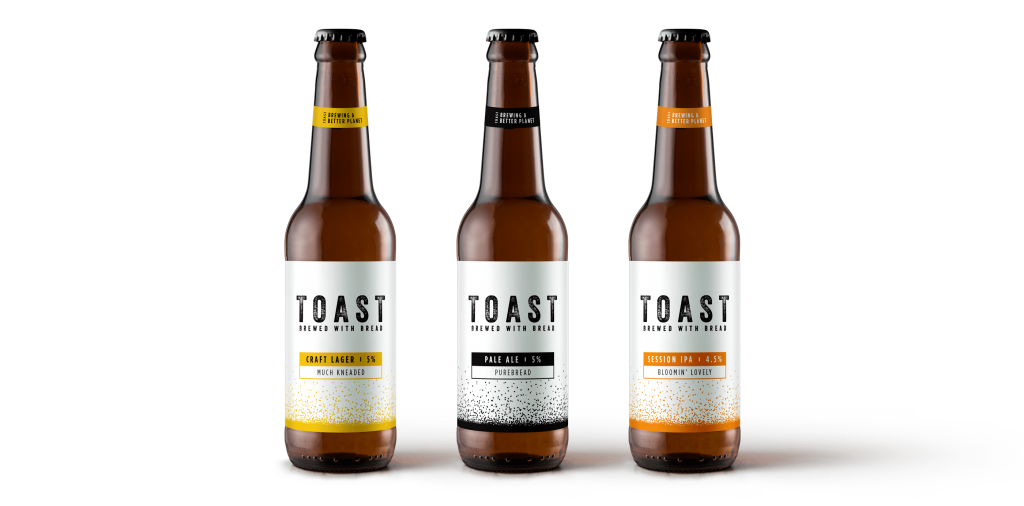 Surplus bread replaces one-third of the malted barley used to produce Toast's beer. Only malted barley, hops, yeast and water are added. The core range of UK beers are produced with Wold Top Brewery, one the UK's most environmentally friendly breweries. Toast also works with bakeries and breweries nationwide on interesting local collaborations.
Launched in London in 2016, Toast is now available UK wide in Tesco, Waitrose and many independent retailers, restaurants and bars. In 2017, the company expanded to the US, South Africa, Brazil and Iceland and is continuing to grow. It has already used 11.4 tonnes of fresh surplus bread to brew 116,900 litres of beer, and has plans to upcycle 1,700 tonnes by 2020.
Managing bread waste is a key concern for bakers and the team. Here at the Tiptree World Bread Awards with Brook Food in order to reduce our waste impact we donate all of the leftover bread from judging day to the charity Passage.
Here are some more great resources of how to reduce bread waste:
The Real Bread Campaign have provided a resource for bakers called 'No loaf Lost'
Toast Ale have a rather splendid idea to make your very own home-brew here
The team at Love Food Hate Waste have launched a campaign 'Make Toast Not Waste' and you can head over to their website to find out lots of fun ideas here
If you have any top tips of how to reduce bread waste get in touch, we'd love to hear from you!
To contact Toast Ale visit:
Website: www.toastale.com
Twitter: @toastale
Instagram: @toastale
Facebook: @toastale