On Tuesday 15 October, 2019, Finalists, Judges and aristocracy of the bread-baking world gathered at St John's Church, Hyde Park for the much-anticipated announcement of the winners of Tiptree World Bread Awards with Brook Food.
Our Master of Ceremonies and Chair of Judges, Stephen Hallam, Master Baker Managing Director of Dickinson & Morris, was delighted to announce Hippy Bread made by Andy Strang, of Bread by Bike, Kentish Town as the Overall Winner of Tiptree World Bread Awards with Brook Food 2019.
Hippy Bread was initially awarded the first-ever trophy for Brook Food Sourdough with Added Ingredients, where in 2019 Brook Food Sourdough had been split into two-subcategories. Andy was presented the trophy by Steve Wells, Commercial Director, Brook Food (left), alongside one of Bread By Bike's bakers, Morgan Williams (right).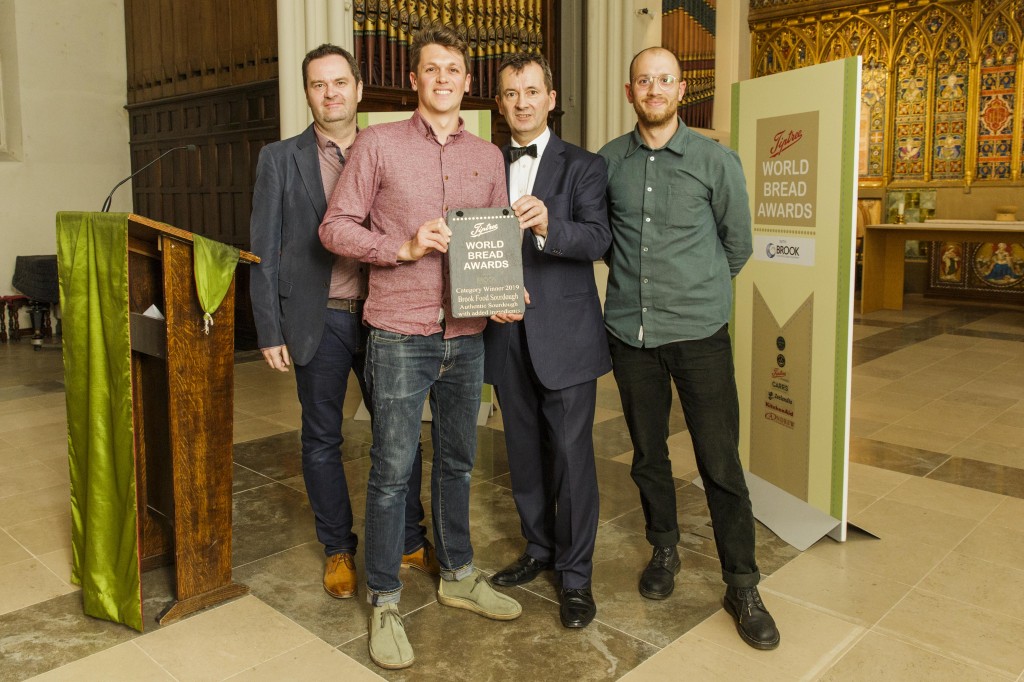 As 'the field was more competitive than ever' said Stephen Hallam, Hippy Bread beat off competition from hundreds of loaves sent in from around the United Kingdom. Delivered by courier, taxi and in person on the morning of the judging at Cathedral Hall, Westminster Cathedral, to be judged by 100 judges across the baking industry.
Scott Goodfellow, Joint Managing Director, Tiptree (left) presented Andy with £1000, a Tiptree hamper and trophy. Stephen Hallam (right). Image Credit: Henry Kenyon

Andy, tell us about your winning loaf – Hippy Bread.
Hippy bread is our seeded sourdough made from a blend of wheat and rye flour, with sunflower, flax, poppy and pumpkin seeds. When developing the Hippy I wanted to get in as many seeds as possible, yet retain an open textured sourdough crumb. After much tinkering we arrived at the final recipe.
We would love to hear more about Bread by Bike…
Bread By Bike is a small artisan bakery in Kentish Town, North London. As well as the bakery we have a cafe area, kitchen and pastry section. We opened in May 2017 and the business has grown steadily since then.
Tell us a little about your background?

Before opening the bakery I did my PhD in interference optics at Imperial College, I spent 9 years studying physics in total. Towards the end of the PhD my interest in bread convinced me to try starting a bakery.
How did it feel to for Hippy Bread to win not only Brook Food Sourdough with Added Ingredients, but for the loaf to achieve Overall Winner?
I was absolutely blown away to win the overall prize at the bread awards. It's such a fantastic feeling for the whole team, it's their dedication and hard work that make it all possible!
Want a taste of Hippy Bread? Explore Bread by Bike's fresh bakes and menu at their bakery and cafe.
Website: www.breadbybike.com
Twitter: www.twitter.com/BreadByBike
Instagram: www.instagram.com/breadbybike/
Facebook: www.facebook.com/breadbybike/