Ildiko Toth, with Smashed Pumpkin Seed Sourdough, rose to the top in Tiptree World Bread Awards with Brook Food in 2019, Real Bread Campaign sponsored by Shipton Mill category.
Ildiko was presented the trophy (below) by Tommy Melville, friend of Shipton Mill, and Stephen Hallam, Chair of Judges. Image Credit: Henry Kenyon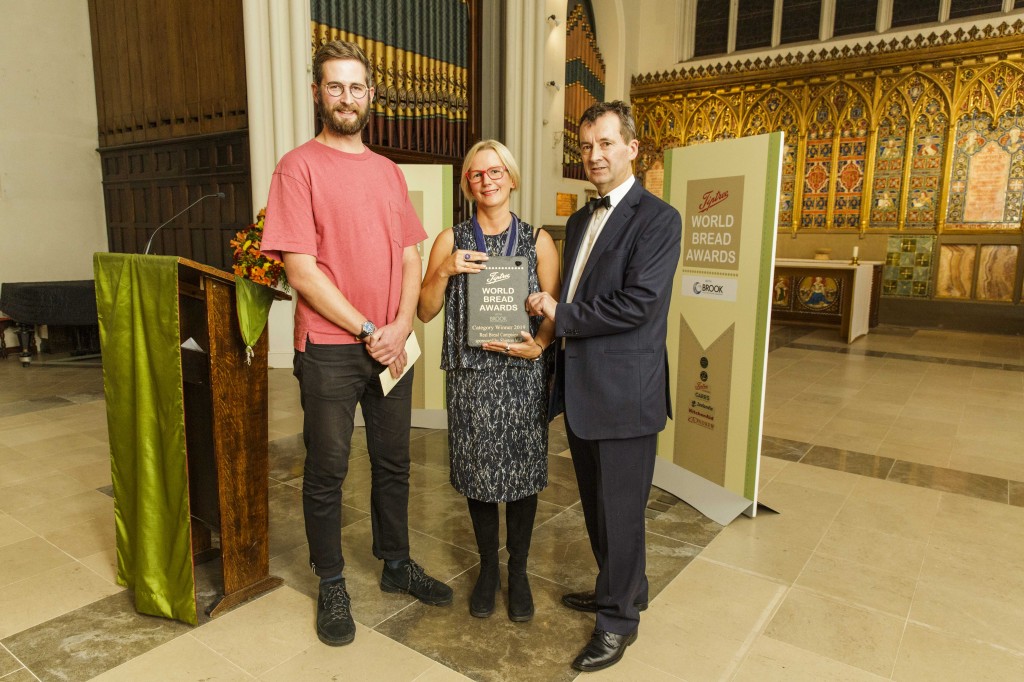 As a first-time entrant, we asked Ildiko and Cultured Bread's relationship with our Awards.
As a first-time entrant, how did it feel to win your category?
It was my first year entering the competition. I wasn't familiar how it worked. When I saw the email in my inbox on the 1st October, I thought it was going to be a polite note to say, 'thank you very much for taking part and better luck next year' type of mail. It was a huge surprise when I read the mail and realised that I am actually a FINALIST! I was so excited. Within minutes I found out that my good friends at M's Bakery in Bournemouth who were the overall winners last year, are also finalist this year. This meant that we could attend together. A truly lovely feeling and reassuring that they'll be there to "hold my hands". At the Ceremony my category's announcement was towards the end. By then I knew if my name will be called last, that means I am the category winner, but never thought that it will happen. I was already honoured to be able to attend the Finalist evening. When I heard my name, I was completely stunned, over the moon. This prize is a great recognition that the new journey I chose is the right one for me. That I am doing something good.
Tell us more about your winning loaf…
My winning loaf is a Smashed pumpkin seed sourdough. I used Shipton Mill's Khorasan, Swiss dark and Traditional white flour. All of them are lovely flours to work with.  The bread is packed with toasted and smashed pumpkin seed, some very special cold pressed pumpkin oil, which came from my favourite part of Hungary (Őrség in County Vas) and Shipton Mill's malted cut rye grains. I used a "rose" pattern scoring, a kind friend of mine has taught me how to do it. I am really grateful to him.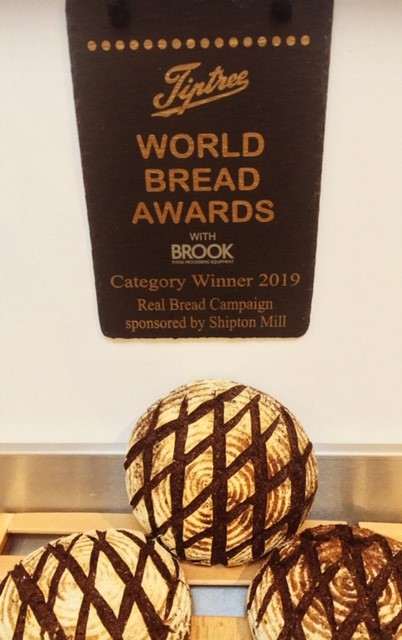 What were the highlights from the awards evening for you?
The whole evening was like a dream for me. If I had to name some highlights, I must say I loved Tiptree's Jam sandwich beer. Loved it that some of the breads were used from the competition to brew it and then served to us during this special night. I loved the colour, aroma of it and even more the fact that it tasted like a good lager, not a sweet fruit beer. Loved meeting with bakers and suppliers in person.
Describe a normal working day at the bakery…
I am really just a baby on this journey. For many reasons I wanted, needed a change in my life. I wanted to renew myself professionally, wanted to do something completely different from my original profession. Sourdough came to my mind on 17th November 2017. On the same day I googled how to make a starter, enrolled into Bread Ahead's 3 days course and started experimenting until January 2018, when the course took place. The same year in summer I've spent a weekend with Vanessa Kimbell. She has given me so much knowledge and food for thought, I can never thank her enough. By the time I arrived home from her, I knew what I wanted and what I needed to do next. I opened my micro bakery - Cultured Bread Bakery- on 17th November 2018 (exactly a year later,) in Chigwell, Essex. I have a Rofco oven with a Campbell stand and workstation at one end of our kitchen. I bake to order once a week on Fridays. My lovely customers come to collect their goods at certain times during the day. Through bread I came to know so many interesting and great people in my neighbourhood. I only work with sourdough, even my sweet treats are sourdough, without commercial yeast, baking powder or bicarbonate of soda. I am learning every single time I bake. I start feeding up my starter on Wednesday mornings and evenings, prepare all my dough on Thursdays and using overnight cold fermentation. Friday mornings after my cup of coffee I would shape my sweet treats and let them prove while I start baking my breads. I have a small prover which is my second-best friend after the timer attached to my Rofco oven. I am very fortunate to be part of a facebook group- Kovászlabor–where we share, experiment and help each other anything to do with sourdough. I am also part of Bread Angels where I've met lovely enthusiastic bakers I can turn to for support. Once a week I am a volunteer at Better Health bakery, a great charity in Haggerstone, helping people with mental health issues.
Want to find out more about Ildiko and Cultured Bread Bakery?