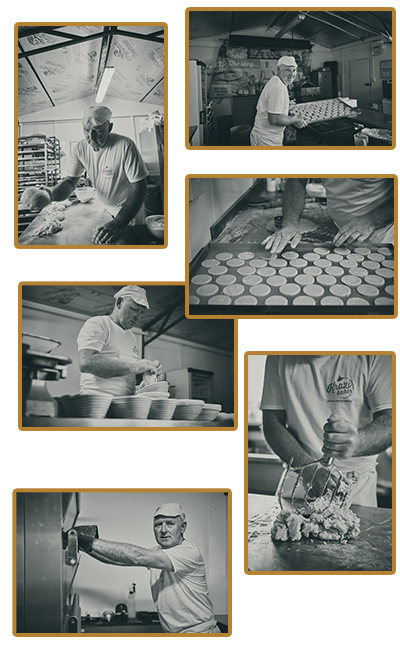 Mark Douglas, Krazi Baker
Northern Ireland Tiptree World Bread Awards Hero with Brook Food 2021
Mark Douglas from Dromore, County Down has been crowned Northern Ireland's Bread Hero in the Tiptree World Bread Awards with Brook Food.

Mark launched Krazi Baker 8 years ago after being inspired by food markets in continental Europe. He came to the realisation that no one was selling bread baked on site. "You'd see every product under the sun, but never bread baked on-site. I was wondering how to do this and when I went back to work, the answer was staring me in the face – hotplates and soda bread." says Mark.
Mark bakes on site and all his bakes are made using traditional Irish recipes and make the most of local produce. His flour comes from Andrew's Mills in Belfast, his bramley apples are from Armagh and the butter comes from Abernethy Butter in County Down.
Customers wolf down his bakes, which include iconic items such as soda farls and potato bread, as fast as he can make them. His ethos is to bake bread by hand with no additives, preservatives or bread improvers… just natural bread.
Mark believes that griddled bakes are becoming "a lost skill". Keen to revive the art, he runs bakery classes at his 'Krazi Soda School' and the St Mary's Convent at Mayobridge. Unfortunately, Mark's business was hit hard when the restrictions of Covid halted markets, shows and baking classes. Not to be defeated, he established a home delivery service, with deliveries being made across Country Down in a pink Fiat 500.
Working with the Ulster Farmer's Union, in conjunction with the Grain Train at the Balmoral Show, Mark also leads talks for local children, showing them how to make soda and potato bread from scratch.
Photos ©Henry Kenyon