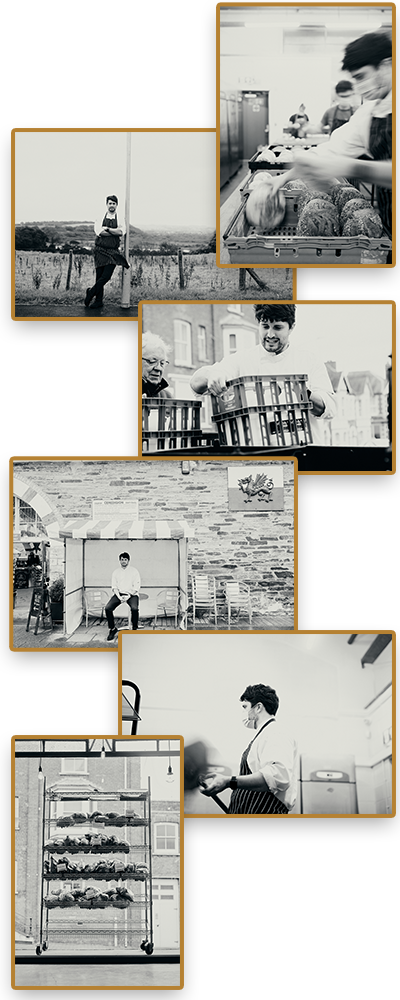 Osian Jones, CRWST
South East Tiptree World Bread Awards Hero with Brook Food 2020
Osian is passionate about three things: Creating great food, championing local producers, and giving back to the local community.
Despite a global pandemic, Osian continued to live by his values. With the closure of the CRWST cafe and the country in lockdown, he immediately started baking bread for a weekly door-to-door delivery to around 100 households. From Osian's Traditional Bloomer to Stoneground Wholemeal, and the Country Sourdough, he ensured that all tastes were catered for. Every week, a 'deli' list would be released which included a variety of local produce which customers could also add to their bread order.
Osian is dedicated to supporting and promoting local produce wherever possible, and this was his way of doing that throughout lockdown. Keen to work with passionate food businesses, when Myrddin Heritage got in touch, he jumped at the opportunity to help provide the community with great food! Myrddin Heritage also had to be innovative during lockdown and came up with the idea of delivering 'breakfast boxes' around South Wales. These boxes included a loaf of Osian's bread, and orders would be anything between 100-200 loaves a week!
With only one bread oven and up to 200 loaves to bake on a Thursday and Friday morning, Osian would start work in the bakery at 1AM. Come 8-9AM, after all the baking was done, the deliveries began until 4PM that very same day! Customers loved having an artisan loaf delivered right to their door, especially those who were at high risk and shielding.
During all the bread baking madness, CRWST also started selling a 'Bake At Home' kit using 3 of Osian's recipes, from which £5 from every box sold was donated towards buying fabric to make scrubs for the NHS.
CRWST teamed up with local company, Hiut Denim, to support the fabric cost and eventually raised over £1500 which contributed to 150 sets of scrubs!
Osian channels all his energy into ensuring that customers receive only the highest standard. Between all the bread baking and 'Bake At Home' kits, Osian's dedication to providing a service is admirable.
'Osian worked extremely hard to provide the local community with bread over lockdown.' says Catrin Jones, one of his nominators, 'Despite the crazy working hours, he always maintained a positive attitude. Customers and the local community are always his number one priority!'
Photos ©Henry Kenyon