Event Supporters, Andrew Ingredients, hosted a 'Toast Your Loaf' event on Thursday 8th February to celebrate the launch of Tiptree World Bread Awards with Brook Food 2018.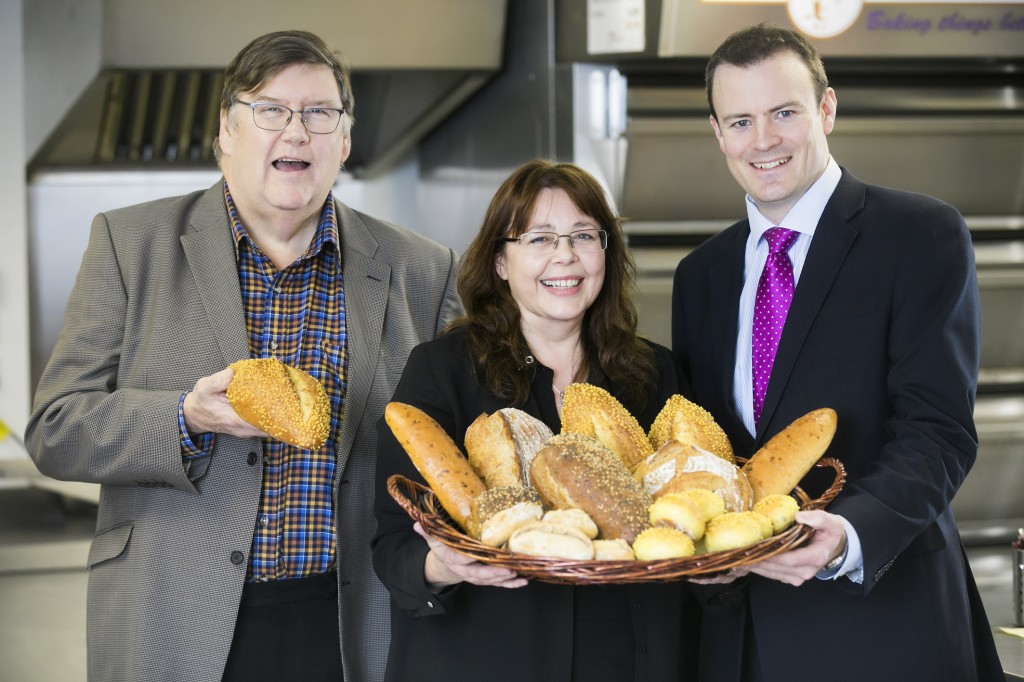 Image: Left, judge and renowned food critic Charles Campion, Kathleen Codd from World Bread Awards and John Graham, Director Andrew Ingredients.  
Special guest and awards judge, Charles Campion attended the event to provide tips on what makes a winning entry and discussed emerging bread trends. Category Winners Thyme & Co attended together with Gold, Silver and Bronze awarded bakers from Amber Catering and Cakes, Ann's Pantry Of Larne, Cookie Jar (Category Runner-Up), Irwin's Bakery, Tony's Griddle Goods, Ursa Minor, Yellow Door Bakery and more.
Andrew Ingredients is a leading supplier of top quality ingredients and supplies to the bakery and food industry throughout Ireland. Today we have invited Claire Andrew to talk to us and find out more.
Claire, thank you for joining us, we'd love to hear how your 'Toast Your Loaf' went? What were some of the key insights that came out of the day
The event was a great success attracting around 40 past and future entrants. It created a real buzz about bread and the awards. The 2017 winners were awarded framed certificates and a bottle of Champagne in further recognition of their achievements last year.
Key insights from the day:
Passion for traditional bread and bread baking generally in NI and Ireland amongst the bakers
Charles Campion loves wheaten and was instrumental in getting the category added to the WBA
WBA is a fantastic way to promote both local artisan bakeries and the great products we have here
WBA has a diverse range of categories that can be entered by all bakers from all regions and shows just how much bread can meet everyone's tastes and adapt to current trends in the food industry
For entries into the Irish Wheaten loaf categories we are seeking an oven-baked loaf made with a blend of flours and leavened with baking soda and buttermilk. We would love to hear more about the history of the Wheaten loaf.
Irish Wheaten bread is only called this if you are from Northern Ireland or further afield, the Irish call it 'Brown Soda'. It is a wholemeal form of soda bread and dates back to the 1100's, brought to Ireland by the Anglo-Normans when they settled in Leinster and Munster.  Fast forward a few centuries, following the Great Famine and the loss of potatoes, the popularity of bread soared, especially this yeastless cake-style bread as it was easy to make every morning. It was made with the newly discovered bicarbonate of soda and brown wholemeal flour and was the main bread for many poorer rural areas, while refined flours were used to create other bread and used as a symbol of wealth.
What are you hoping to see from the 2018 entries that will set them apart from all others?
We would love to see more entries in all categories from NI and ROI as there is such talent around. It would also be great to see bakers who enter the competition show off the vast range of traditional breads e.g. Irish batch bread, Oven soda breads, Wheaten breads, Hotplate soda bread, potato bread, Waterford Blaa, Cork grinder. The staple breads are fabulous, but it is also good to see what bakers can add to them to create a point of difference and enhance them further.
With your vast knowledge of bakery ingredients what top tips can you give to bakers of how best to select their ingredients for inclusion in their loaves?
Firstly, good quality ingredients are a must. Then for specific inclusions like spices it's best not to add too much as they can become very overpowering.  On the other hand, if it is fruit, nuts or chocolate be careful not to add too little.
Claire, thank you for your time today. We look forward to seeing Finbar Haughey at the judging day in London in September!
If you would like to enter visit the categories page here
Find out more about Andrew's Ingredients:
Website: www.andrewingredients.co.uk
Facebook: @AndrewIngredients
Twitter: @AndrewIngred
YouTube: /andrewingredients