New to Tiptree World Bread Awards with Brook Food 2017 was the Tiptree Patisserie Trainee Baker category and our first-ever winner was Jessica Dalton, a BSc Bakery and Patisserie Technology student at University College, Birmingham.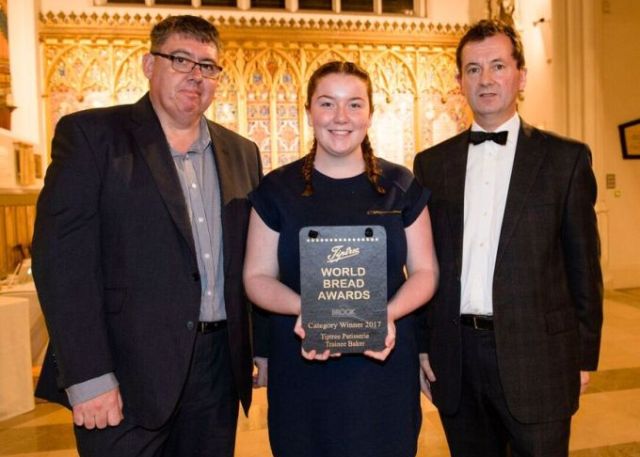 Even though Jessica is only 21, she was not only recognised at the Tiptree World Bread Awards with Brook Foods but also scooped The Rising Star Award at the Baking Industry Awards, The Bakery Trainee Challenge and The British Society of Baking Trophy at this year's Alliance for Bakery Students and Trainees Awards (ABST). She has also made chocolates for Sophie, Countess of Wessex.
Having studied Level 1 Bakery at University College Birmingham, Jessica now works in the bakery at the University, with stints at craft bakeries and Bettys of Harrogate.
An incredible ambassador to young and aspiring bakers – we are delighted to welcome Jessica to our blog to find out more.
Welcome to the blog Jessica, many congratulations on your successes this year, and for winning your category at the World Bread Awards. How did it feel to win Tiptree Patisserie Trainee Baker?
It felt great to make it to the final as two other UCB students did too. It was an honour to represent University College Birmingham.
What were the highlights from the awards evening?
The highlight of the awards evening was being able to network with people from the industry.
Tell us more about your winning loaves?
The two loaves produced were a white tin and wholemeal tin. I've entered competitions before using the recipe I had used and it makes some great bread. I wanted to do something different with the scoring on the white tin so I had practiced a few times prior.
We'd love to hear more about what first inspired you to bake and take it up as a profession?
I was studying Health and Social Care but had a change of heart and decided to do something practical. I attended the UCB open day and loved the bakery department. Luckily, it has worked out well for me because now I love baking and I'm always trying to come up with new ideas. I became the level three apprentice at UCB and was then offered a degree apprenticeship. I work full time and study Bakery and Patisserie Technology BSc part time.
Bakery and Patisserie Technology BSc (Hons) / FdSc
What advice would you give to fellow students wanting to enter baking competitions?
My advice would be is not to be scared to enter, thinking others are more experienced. I always thought bread is not my strong point but that's what made me enter these competitions, it motivates you more. Also, it's not about winning (of course it's great if you do) but it's about understanding what you could do better next time by getting feedback from the judges. It's a great experience and you're able to showcase your skills.
If you would like to connect with Jessica visit:
Instagram: @jessicasbakes96
Twitter: @jessdalton96