Tradition Francaise rose to the top of the Carr's Four Baguette Category at this year's Tiptree World Bread Awards with Brook Food.
A highlight of the British Baker's annual calendar, the awards this year attracted hundreds of loaves to the Judging Day at Cathedral Hall, Westminster Cathedral in September. "The choice, range and quality of bread in Britain today is immense," says Caroline Kenyon, Director of the Awards.
Our Master of Ceremonies and Chair of Judges, Stephen Hallam, Master Baker Managing Director of Dickinson & Morris, was delighted to announce Tradition Francaise as the winner of the category, with Rob Munro accepting the trophy on Hotel Café Royal's behalf.
This November, newly appointed Carr's Flour MD, Rob Munro (left), presented the trophy personally to Maxime Caillon, Head Baker at Hotel Café Royal (right).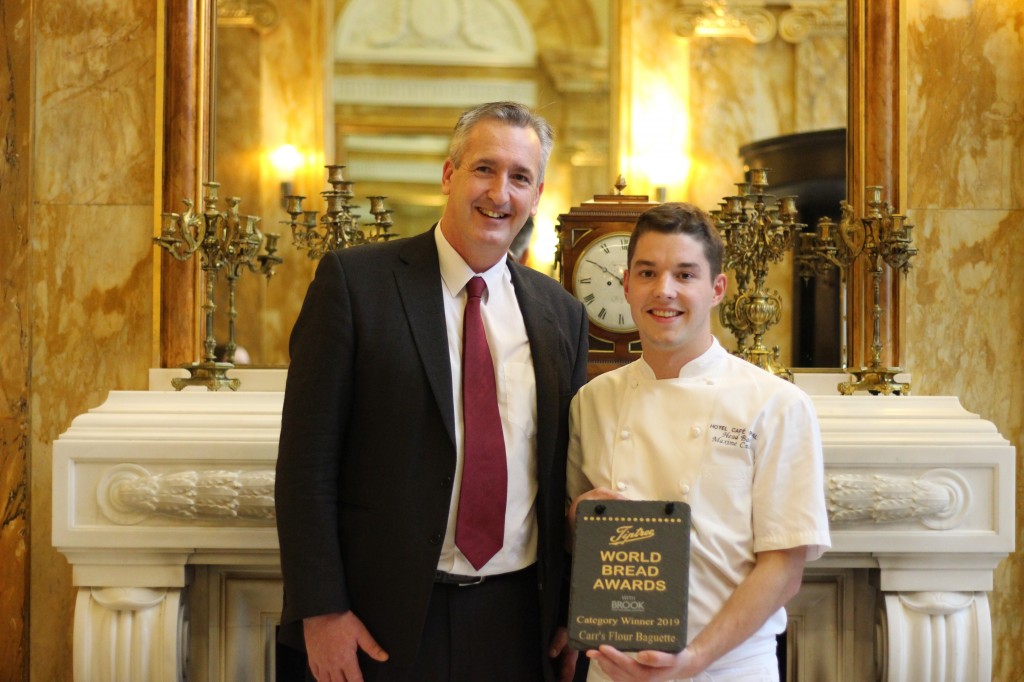 "We are incredibly proud to give this award to Maxime and Hotel Café Royal for their truly exceptional Tradition Francaise baguette. It was a hotly contested category, but overall, the sheer quality of the product nudged Maxime's entry into the top spot," – Rob Munro.
Sourdough Baguette, by Overall Winner, Bread By Bike, came runner up in the category.
Carr's supply flour that's tried and trusted by Britain's best artisan and trade bakers. From a straightforward loaf to a complex cake, Carr's believe that every time you bake or cook, the flour you use should be right for the job. Carr's strive to source the very best varieties of wheat, because they know, from over 175 years experience, that when you start with the best, you get the best results.
Want a taste of Tradition Francaise? Find out more from Hotel Café Royal.