This year, Tiptree World Bread Awards with Brook Food have celebrated some incredible heart-warming stories across the nation. We are so humbled and honoured to recognise our World Bread Awards Heroes. With the countdown to the festive period, what better time than to share something celebratory and joyful. 
With the start of Christmas, we asked our Chair of Judges - Stephen Hallam, Master Baker, MD Dickinson & Morris, to share one of his favourite festive recipes.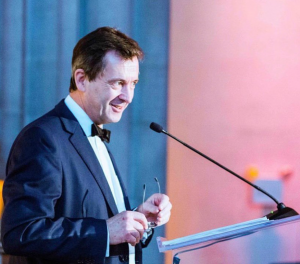 'Back in 1980 for 2½ years I was a Pâtissier on the QE2 and sailed round the world 3 times. In the winter months the Ship would operate out of New York, mostly travelling south and cruising around the Caribbean islands.
My role involved making desserts, afternoon tea cakes and petits fours. From Baked Alaskas and Chocolate Souffles to Rich Fruit Cake, Eclairs and Turkish Delight – every day all were consumed with great relish by 2000 passengers.
One particular favourite was a simple petit four called Chocolate Nutty Hallams, whose recipe was published in 1983 in the QE2 Cookbook by Carol Wright.'
Chocolate Nutty Hallams
Makes about 12 portions
Ingredients
150g Roasted Flaked Almonds
225g Sultanas (soaked for at least 8 hours in dark Rum)
350g Dark Chocolate
Method
Melt the chocolate of boiling water in a basin and mix with the almonds and sultanas
Turn onto a wax covered baking tray and spread the mixture approximately 2cm thick
Chill. When set cut into small squares
If you do not care for this, we could go with a Chocolate Souffle recipe
'Have a great time at Christmas and everything that comes with it.'
From us all at Tiptree World Bread Awards with Brook Food, Merry Christmas!
We will be back with 2021 news very soon – stay tuned…