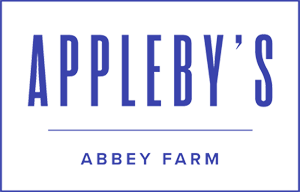 Farmers and cheesemakers – established 1952
For more than 60 years, the Appleby family have been making quality cheese at Hawstone Abbey Farm.
They have been producing their handmade, clothbound unpasteurised cheese since 1952. During this time very little has changed in the process and the unique flavour and texture runs through Appleby's Cheshire, Appleby's Smoked and Appleby's Double Gloucester.
The Appleby family are passionate about cheese and through the generations have kept the balance between past and present, whilst always looking to the future. The cheese recipe, knowledge, history and passion of traditional cheesemaking has been passed down to the third generation of the Appleby family. 2011 and 2012 recognised as one of top 50 cheeses in the world at The World Cheese Awards.
Instagram: @applebyscheese
Twitter: @ApplebysCheese
Facebook: @ApplebysCheese