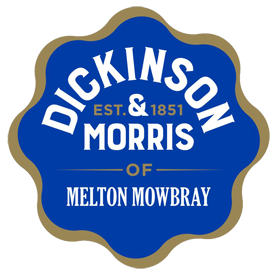 Dickinson & Morris has been baking Melton Mowbray Pork Pies since 1851. We are the oldest remaining bakers of the authentic Pork Pie in the town centre today.
In 1992, after fire had devastated the period style building, Samworth Brothers bought the property and carried out extensive refurbishment and renovation in conjunction with English Heritage. Ye Olde Pork Pie Shoppe reopened in October of that year, and re-established the town's envied position as the centre of excellence for all pork pies.
In response to the high demand for Dickinson & Morris pork pies nationwide, they were launched nationally through leading high street retailers in 1996. Due to this unprecedented demand, the baking of these pies now also takes place at a bigger bakery located just outside Leicester. Continued demand for such quality products led to the opening of The Sausage Shop next door, offering a wide variety of premium speciality sausages. As a means of keeping all their passionate customers happy, Dickinson & Morris have also established a chilled mail order service. Order your Pork Pie hampers and gifts along with our other delicious ranges, all available to buy online now
Premium ingredients, time-honoured recipes and attention to detail have made the Dickinson & Morris name what it is today. The host of awards collected by both the shops – through the pork pies, sausages and most importantly the staff – along with media recognition, reflects this achievement.
Email: dickinsonandmorris@porkpie.co.uk
Website: www.porkpie.co.uk
Facebook: @dickinsonandmorris
Twitter: @dickinsonmorris