Sciolti Botanical Chocolates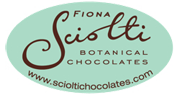 Fiona Sciolti is an award winning International Artisan chocolatier who draws upon her Anglo- Italian background and love of natural country flavours to make extraordinary chocolates and confectionery.
Fiona loves to use many unusual and seasonal ingredients throughout the year, such as flowers, fruits, herbs, teas and honeys. She often sources through foraging heritage country estates, her cherished Father's allotment and established gardens including her own. The result is a veritable artist's palette of changing flavours as the seasons roll by.
But it doesn't end there; Fiona's passion, verve and enthusiasm bubble over and she loves to inspire others to have a go themselves, be it through her vibrant and inclusive demonstrations, and cookery schools throughout the UK and at venues such as The Royal Festival Hall, London. She passes on simple techniques and handy tips to make chocolatiering and confectionery accessible to all.
Her portfolio is impressive; creating chocolates for clients such as Christian Dior, Inter Beaujolais, Country Living Magazine, Riverford Organic, The Barbican Centre, National & International Charities with Royal Patronage and Buckingham Palace.
In 2014 her reputation took her to Thailand where Fiona was invited to create Asia's first range of Botanical Chocolates for a globally award winning Six Star Luxury Spa Retreat. In 2015, she repeated the feat but this time in the Maldives (for another 6 star Spa & Resort). Then last October, Fiona was invited to be the culinary star and chocolatier at the 29th International Flower Show held in Bangkok. They liked her so much they've asked her back this year as well and she is currently working on a chocolate collection featuring some of the finest olive oils from across Europe including of course, some from her favourite destination – Italy!
Over the years she has attracted the attention of renowned Chefs, Magazines, TV and BBC Radio; putting in appearances on Alan Titchmarsh's "Love Your Garden", "The Alan Titchmarsh Show", National TV Campaigns and "Secret SupperClub" with Ollie Smith.
Fiona also judges for the Great Taste Awards – the Oscars of the UK's food industry. She has also sat on the specialist Great Taste Olive Oil judging panel.
To learn more about Fiona and her work, do have a look at her website: