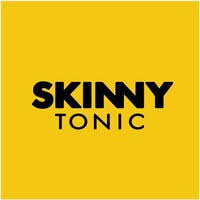 SKINNY TONIC ™ #Nothingtohide
Skinny Tonic™ is a zero sugar, zero calorie, 100 % natural tonic that makes it easier to choose healthily.
Unlike other tonic waters – that can contain up to four teaspoons of sugar – Skinny Tonic™ is the first to pioneer change using the plant-based alternative stevia to sweeten its tonic water so that each can is sugar free with all the taste and flavour of regular tonic water with no artificial ingredients.
The story began when founder, Ian Minton, now 37, was diagnosed with Type 1 Diabetes, aged 23. Despite a huge lifestyle change, Ian still craved the social aspect of drinks with friends in the pub. While it is safe for diabetics to drink gin, Ian soon realised that several premium slimline tonics stocked by bars still contained too much sugar.
Created so that anyone can enjoy a grown-up drink whatever their dietary requirements, these delicious tonic waters are suitable for diabetics, vegans or simply those who enjoy a slimmer drink. Mix with your favourite spirit (alcoholic or non-alcoholic), or just add garnish to create a refreshing drink that is just the tonic!
Indian Tonic, 'The Yellow One', and Light Citrus, 'The Blue One' are currently available for RRP £3.50 (8x150ml cans) at ASDA, 31 Dover and online at www.skinnytonics.com.
• SKINNY TONIC™ is outselling Schweppes 1783 in Supermarkets 3:1. IRI August 19. Weighted distribution. 150ml can.
• SKINNY TONIC™ is the fastest growing tonic water in the last 4 weeks, Supermarkets. IRI August 19. Weighted distribution. 150ml can
Skinny Tonic ™ is proud to work in partnership with the charity Survival supporting the global movement for tribal peoples. They specifically support the Guarani Tribe in Paraguay, which cultivates stevia. www.survivalinternational.org
Website: www.skinnytonics.com
Facebook: @Skinnytonic
Twitter: @SkinnyTonic
Instagram: @skinnytonic